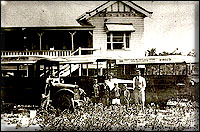 Alan's father and his brothers with their buses outside the family home in Anderson Street, Cairns. Alan's mother Alice ran the local Post Office next door for many years.
Alan Metcalfe's family pioneered tourism and mining in and around Cairns in Far North Queensland. Alan's dad and his uncle George had the early bus services in Cairns, and later his father started taxis and began tours of the Atherton Tablelands to show tourists the many attractions including where the bushranger Christie Palmerston used to hide.
Alan's father also mined wolfram at Wolfram Camp and Alan's older brother Norman, mined tin for many years on Smith's Creek near Herberton.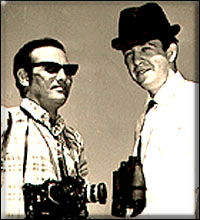 Alan Metcalfe's business career began in the mid-1960s when he took on a job in Mount Isa, North West Queensland, Australia to provide contract sports journalist services to the North West Star newspaper. This job taught Alan the basics of commercial writing and laid the foundations for a career of involvement in the world of communications.
Based on his experience with the North West Star, Alan established free weekly newspapers in Mount Isa, which he later spread throughout North Queensland. These publications included Townsville Woman and Foley Shield Football.
Alan was an enthusiastic sportsman in his youth including track and road cycling, hockey, swimming and football. He ended his playing career in Mount Isa where he and two friends, John Edwards and John Cargill established the Mount Isa Australian Football League.
Alan was inaugeral captain-coach of the Rovers Football Club for three years.
He was also the instigator of the North Australian Football Championships that involved Mount Isa, Darwin, Alice Springs, Townsville, Cairns and Port Moresby.
After working in the Underground Planning and Design Section of Mount Isa Mines in the early 1960s, Alan started a mining business in 1970 when he and partner Brian Speechly provided contract mining services for the underground development of the Gunpowder Mine. Later he explored for coal in the Bown Basin and operated a production mining operation at Kuridala.
Kuridala is a copper-gold deposit in North West Queensland, 40 miles South of Cloncurry and about 200 miles South East of Mount Isa. Today it is at the center is a booming mineral field.
The photo to the right is of the orginal Post Office at Kuridala that was operated for many years by Mrs Kathleen Tunney. Click here to see more photos from the mining days.
A change of political direction in Australia in the early 1970s prevented the Metcalfe family from completing the establishment of their commercial mining operation at Kuridala and motivated Alan into politics where he formed and chaired the North Australian Development Council for three years.
During this time he held various positions with the National Party of Australia including campaign director for the National Party of Australia (Tasmania) in the 1974 elections. In 1983 he wrote the book "In Their Own Right" about the achievements of the National Party in Queensland that was published by University of Queensland Press.
Alan retired from politics in 1983 to concentrate on business.