Alan, Mary and Clayton moved from Mount Isa to Townsville in 1980 after starting the North West Queensland Advertiser Newspaper, which they later operated with Jackie Phillips (Alan's wife). Townsville offered greater opportunities in publishing, politics and the film industry.
Alan was then Chairman of the North Australian Development Council. He subsequently was endorsed by the NPA (Q) to contest the seat of Townsville South and with Mark Louez established the North Australian Film Corporation to produce films for international television release.
Alan and Mark Louez.
In Townsville Alan published the Foley Shield Football Magazine and Mary published a magazine for women called Townsville Woman.
Mary was subsequently chosen along with actress Dianne Cilento to represent Queensland at the UN Women's Year Luncheon in Canberra in 1984.
On the right Mary is photographed with Clayton at the time that Mary was publishing Townsville Woman and Clayton was the editor of the Nudgee School Newspaper.
Mary was also Production Accountant for North Australian Film Corporation at this time. She successfully managed the budgets for 14 films that the NAFC produced.
Clayton received his initiation into the family business in numerous ways over the years.
Don McDonald (the Federal President of the Australian National Party) taught him to drive while spending school holidays on Devoncourt. It nearly cost Don a truck and his garage.
Another year Clayton worked as a deck hand for Doug Tarca who built the first floating hotel on the Great Barrier Reef.
Additionally, every Sunday during the football season, he sold Foley Shield Football newspapers at the big games throughout North Queensland.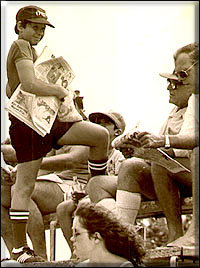 Clayton Selling The Foley Shield Football Newspapers