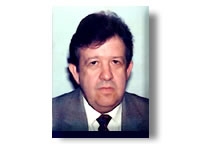 PERSONAL DETAILS
Alan M. Metcalfe
IBS SafeWorld System Designer
Address:
PO Box 587, Spring Hill, Australia Q4004
E-mail: alanm@harpbbt.com.au
Telephone: +61-7-3437-8989
Date of Birth:
8th March 1946
Marital Status:

Married (1965) - wife Mary
Son: Clayton (1967)

Occupation:

Chairman/CEO of Metcalfe Holdings Pty Ltd (1970)
Chairman/CEO/Principal Designer of
Internet Business Systems Inc. (1999)
Director of Harp Bankers Brokers & Traders
Director of Institute for Truth Studies

Education:
Cairns State High
Mount Isa Technical College - Maths, English, Design
PUBLIC POSITIONS HELD
Founder-Secretary - Mount Isa Australian Football League (1965-70)
Founder-Secretary - North Australian Football Championships (1966)
Founder-Chairman - North Australian Development Council (1974-78)
Member - State Mgt Committee, National Party of Australia (1973-83)
Chairman - National Party Minerals & Energy Committee (1974-76)
Chairman - National Party Trade & Marketing Committee (1976-78)
AWARDS
Top Sales Underwriter (Australia) - AMP Society (1967-1969)
SUMMARY OF EXPERIENCE
Alan a widely experienced e-business system designer and manager with international business experience -particularly in the US market. His credits include experience as a public company founder, manager and director, author (published Queensland University Press), filmmaker (14 films), and public speaker. He has experience with projects up to US$1 billion. His particular area of expertise is with artificial intelligence as it applies to e-business. Since 1992 his focus has been on researching and developing the unique IBS SafeWorld system.
Alan's business experience spans mining, mine planning and design, mineral and coal exploration, sales and marketing, advertising, newspapers, film, television, publishing, multimedia, Internet, telecomputing, technology transfer, finance, and general business consulting and administration. Throughout his career he has been in positions of leadership and responsibility where he has been widely recognized as an innovator of new ideas..
Alan started out in underground planning and design with Mount Isa Mines Limited (Australia's largest underground mine) and later worked as a contract miner and small mine owner-operator in North West Queensland, Australia to gain practical experience. His family company was a successful supplier of fluxing ores to Mount Isa Mines for several years and later successfully completed the initial contract development of the Gunpowder Mine for VAM Limited. During this time he was also the leading new business salesman for the AMP Society of Australia for three consecutive years where he pioneered equity linked insurance.
After leaving the mining industry in 1974, Alan gained experience and achieved success with new business start-ups in the areas of communications (films, television, and newspapers) and technology. He pioneered the introduction of free weekly newspapers in Australia. Since 1984, as the day to day manager of Metcalfe Holdings Pty Ltd and Harp Bankers Brokers & Traders, he has worked with numerous small and large firms in various parts of the world, during which time he has also given countless hours of public service and assistance to numerous organizations and small businesses.
A highlight of Alan's career was the successful founding and establishment of two Australian "high tech" public companies, Queensland Science & Technology Limited (QSTL) in 1984 and SciRad Limited (1986) based on technology from the University of Queensland. As a director and the general manager of QSTL he was responsible for technology identification, the corporate business plan, start-up, financing, and management of these companies between 1983 and 1988. During this time the price of QSTL shares rose steadily from $0.50 to $5.20 on the Australian Stock Exchange. As chairman of QSTL's Bermuda based BioCom International Limited he was responsible for that company's international structuring, finance, and establishment in the field of technology transfer and gasoline blending for the US market. From an initial valuation of $60,000, BioCom was capitalized at US$68 million when Alan resigned in 1988 following an internal takeover of QSTL and SciRaD.
After resigning from QSTL/SciRaD, Alan was engaged as principal advisor to the US$1 billion COGA, Inc., coal gasification project in Chicago, Illinois. There he was responsible for assisting the president develop the business plan, and the off-take, construction, power supply, and raw materials supply contracts. Following this he was engaged as principal advisor to the chairman/CEO of Traxel Intertrade, Inc. (Germany-Russia-USA). In this position he was responsible for corporate restructuring, international tax and business strategies, and the sale of the group's long distance telephone reselling business.
In 1992 Alan scaled back his consulting activities to concentrate on research into artificial intelligence and the development of what is now known as the IBS SafeWorld system. He first began researching computerized business systems in 1983 and first become involved with the Internet in 1986. Development of the IBS SafeWorld system. has involved on-going R&D in areas of artificial intelligence, unified theory, computer system design, human-machine interface, and all aspects of the Internet and e-business (e-commerce). Highlights of this work include:
1992: - A US-wide program to interview leading businesses about their plans for e-business. This program was undertaken with assistance from Touche Ross & Co., New York and Brooks Houghton, New York.
1992: - Research, design, development and release of the first Internet graphic user interface (GUI) for e-business. This involved the establishment of a private network interfaced with the Internet, linking Australia, the US, and Germany.
1993: - Visit to Russia at the request of humanitarian aid workers and the Mayor of Moscow to inspect the Russian Privatization Program and propose a program of assistance based on e-business.
1995 -1996: - Development of one of Australia's first Internet Service Provider (ISP) businesses in Brisbane, Australia. This business is still going today serving a select group of corporate clients. During the past five years the MHPL division Alphainfo has built more than 200 corporate Web sites and services for its customers.
1997-1998: - Work with the Australian Stock Exchange to establish the ASX's on-line Enterprise Market.
1998-2001: Chairman/CEO of Court Commerce Corporation Inc. (C3) responsible for developing and managing the company's digital audio recorder and its start-up program in North America. This position was based on an agreement with C3 to contribute funding for the development of the IBS SafeWorld System application for law courts. The work involved technology selection, market and competition evaluation, system design, the identification and establishment of the development team, and management of the project.
1999: - Establishment of Internet Business Systems (IBS) Inc. This work included the design of the international business structure for the creation of the global business of IBS.
2000 >: - Patent design and application for world's first fully integrated, fully inter-operational e-business system. This patent application is the basis of the IBS SafeWorld System.
COMPUTER SKILLS
Alan has 30 years experience in project management. Twenty years of this has involved managing software development. He has specialized in effecting the link between business people and scientists and technician such as software programmers. Alan has been computer literate since 1969 when he worked at Mount Isa Mines Limited where computers were used in underground design and scheduling. He has experience with DOS, Windows, and Apple systems and is experienced with a wide range of business, technical, and creative software packages that operate on these platforms. Since 1990, he has been at the forefront of the development of the Internet, the World Wide Web, and private wide area networks for e-business.