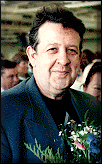 Alan Metcalfe.
HarpBBT is managed by Alan Metcalfe. Mary Metcalfe is the Chief Financial Officer and Clayton Metcalfe is the firm's webmaster.
Alan Metcalfe is an electronic business ("e-business") system designer with experience in investment banking and international business in Australia and the major markets of North America and Europe. Today he specializes in developing intelligent e-business systems using the IBS-SafeWorld platform. For more information, see Alan's CV.
Alan Metcalfe is a member of a practical business family that has been serving Australian business and the community for more than 100 years.
Grandfather Metcalfe came to Australia from Ireland in the mid-Nineteenth Century to provide timber selection services for building Queensland's railways.
During his career, Alan Metcalfe has done business all over the world, establishing and managing public and private companies and helping hundreds of clients achieve their business goals through a variety of creative programs.
Highlights