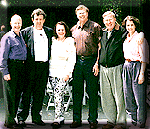 Alan was introduced to Ken Newman by Dr Ron Jenson of Rancho Bernado in California. Ron is a widely known motivational speaker with strong ties to the Christian Church in America.
Ron and his wife Mary are pictured with here with Alan and Mary and Dick and Stan Gabriel at Ron and Mary's home in California.
Through Ron Jenson, Alan and Mary were ultimately invited to go to Moscow in 1993 to evaluate opportunities to help privatised Russian businesses use the Internet to do business with the West.