In 1994, with the assistance of a lot of people, we finally signed agreements with the International University Moscow and the Federal Information Center for Investment Promotion to develop an on-line system for promoting trade and investment between Russia and the rest of the world.
The project called the Russian Business Exchange has been a most challenging project to say the least. In 1995 we signed an investment package to provide $30 million for R&D associated with this project, but the deal was subsequently not approved by the Australian Government in 1996. And in December 1996 one of the leading researchers on the project died. This was a major set-back, but even now we are hoping to have the system operational by mid-1998.
Among those who have worked with us, and have helped us, are General Nicholai Stolyarov of the Russian Air Force. General Stolyarov is also a member of the Russian Parliament and Dean of the Business School for Former Russian Military Officers.
Vice Rectors of the International University Moscow Ludmila Tretyakova and Alexander Terekhov have also been particularly helpful.
As have Christian missionaries Peter and Anita Deyneka and our personal friends and interpreters, Yuri Gromov and Colonel Michael Titov.
The project involves students of the International University Moscow and graduates of the Business School for Former Russian Military Officers.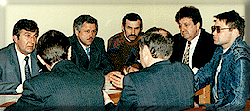 ABOVE: Alan meeting with MBA graduates of the Business School for former Russian Military Officers.
BELOW: Alan speaking with business students in the great hall at the International University Moscow.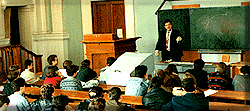 The latest program involves establishing an AlphaInfo Server in Moscow towards the end of 1997 for commissioning in 1998.
This server will then be linked in with AlphaInfo Servers in Australia, the United States and elsewhere to promote trade and investment.
In addition to the Russians, Americans and Australians who have been helping us with this project, special thanks also is due to our old friend Fred Potter who has provided office facilities for the project in Washington, DC.
The Washington office has been important because of the need to stay abreast of US Government policies and projects involving Russia.